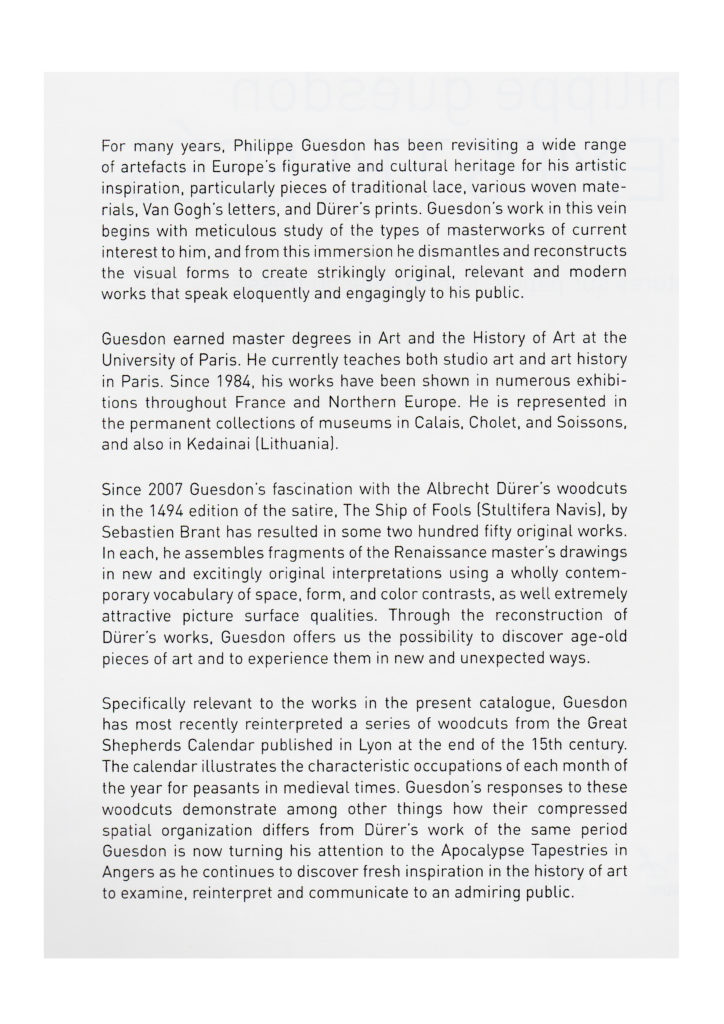 For many years, Philippe Guesdon has been revisiting a wide range of artefacts in Europe's figurative and cultural heritage for his artistic inspiration, particularly pieces of traditional lace, various woven materials, Van Gogh's letters, and Dürer's prints. Guesdon's work in this vein begins with meticulous study of the types of masterworks of current interest to him, and from this immersion he dismantles and reconstructs the visual forms to create strikingly original, relevant, and modern works that speak eloquently and engagingly to his public.
Guesdon earned master's degrees in Art and the History of Art at the University of Paris. He currently teaches both studio art and art history in Paris. Since 1984, his works have been shown in numerous exhibitions throughout France and Northern Europe. He is represented in the permanent collections of museums in Calais, Cholet, and Soissons, and in Kedainai (Lithuania).
Since 2007, Guesdon's fascination with the Albrecht Dürer's woodcuts in the 1495 edition of the satire, The Ship of Fools (Stultifera Navis), by Sebastian Brant has resulted in some two hundred fifty originals works. In each, he assembles fragments of the Renaissance master's drawings in new and excitingly original interpretations using a wholly contemporary vocabulary of space, form, and colour contrasts, as well extremely attractive picture surface qualities. Through the reconstruction of Dürer's works, Guesdon offers us the possibility to discover age-old pieces of art and to experience them in new and unexpected ways.
Specifically relevant to the works in the present catalogue, Guesdon has most recently reinterpreted a series of woodcuts from the Great Shepherds Calendar published in Lyon at the end of the 15th century. The calendar illustrates the characteristic occupations of each month of the year for peasants in medieval times. Guesdon's responses to these woodcuts demonstrate among other things how their compressed spatial organization differs from Dürer's work of the same period Guesdon is now turning his attention to the Apocalypse Tapestries in Angers as he continues to discover fresh inspiration in the history of art to examine, reinterpret and communicate to an admiring public.
Skip back to main navigation